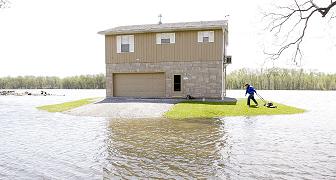 Mitigation is a process by which hazards are identified, vulnerabilities to these hazards assessed, and actions taken to lessen the impact of the hazard on human life, property, and the community at large. Once mitigation strategies are identified, mitigation projects can be submitted to FEMA for possible grant funding.
Tulare County OES encourages the public to be aware of the hazards that may impact you. The California Governor's Office of Emergency Services (Cal OES) maintains the MyHazards website, which allows you to view Earthquake, Flood, and Fire hazard information, along with preparedness measures, for any address in the state. Click on the link above, or navigate to http://myhazards.caloes.ca.gov/ to use the MyHazards website.
Tulare County was awarded Hazard Mitigation Grant Program funds to develop an update to the Local Hazard Mitigation Plan (LHMP). This update - built upon the foundations laid by the 2012 LHMP - provides an enhanced Multi-Jurisdictional Local Hazard Mitigation Plan (MJLHMP), and will incorporate additional elements as required by California Government Code §65302 (d)(4) for climate adaptation and drought.