Training Standards
Emergencies and disasters can strike at any time without warning. Public, private, volunteer, and tribal personnel need to be familiar with the systems used to manage these events at all levels of government, in order to mount a safe and effective response.
The Office of Emergency Services maintains Training Standards for the Tulare Operational Area, based on the requirements of California's Standardized Emergency Management System (SEMS) and the National Incident Management System (NIMS). This document can be viewed below:
Tulare Operational Area Training Standards
Emergency Operations Center (EOC) Credentialing
Over the past several years, the frequency, scope, severity, and complexity of disasters have increased dramatically. In response, the Governor's Office of Emergency Services has developed an Emergency Operations Center (EOC) Position Credentialing Program which, similar to the California Incident Command Credentialing System (CICCS), establishes consistent standards for the training, exercise, experience, and evaluation of personnel serving in each identified Emergency Operations Center position. Like other forms of resource typing, EOC credentialing allows jurisdictions to quickly identify qualified EOC personnel when requesting or providing mutual aid during times of disaster.
The training progression outlined in the Credentialing Standards is excerpted below: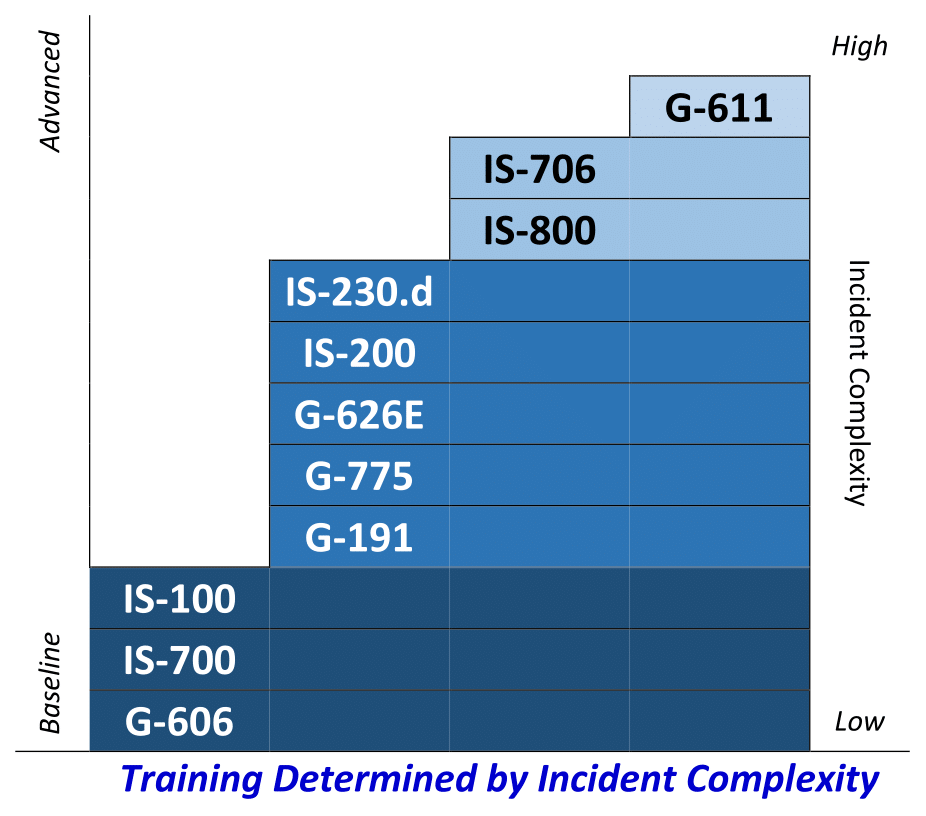 The following trainings are available online from FEMA's Emergency Management Institute. A FEMA Student Identification (SID) number is required.
The following courses are available online from the California Governor's Office of Emergency Services, California Specialized Training Institute (CSTI) (website registration required):
G-606 Standardized Emergency Management System Introductory Course
The following core courses are available via in-person classroom delivery only:
G-626E Essentials: EOC Action Planning - 8 hours
G-775 EOC Management and Operations - 12 hours
G-191 ICS/EOC Interface Workshop - 8 hours
G-611 EOC Section/Position Position Specific Training

Each of the 5 EOC sections are delivered a separate 8-hour trainings
Tulare County OES locally delivers each of the core classroom courses on at least a semi-annual basis. The most current training calendar with registration links is available on the left side of this page.